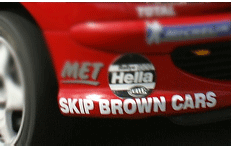 Welcome to the Skip Brown Cars Web Site...
...the high performance engine for Peugeot Talbot enthusiasts and competitors.
Our highly experienced and motivated team have the skills and knowledge to help you realise your goal. Whether it's getting the best from your road car, developing a track day car or building a pure competition vehicle, Skip Brown Cars have a proven reputation, with performance solutions to satisfy all your requirements.
Please telephone to put us to the test.
We look forward to being of service to you.
Telephone: +44 (0) 1829 720492 Skip Brown Cars, Ridley Green, Tarporley, Cheshire CW6 9RY